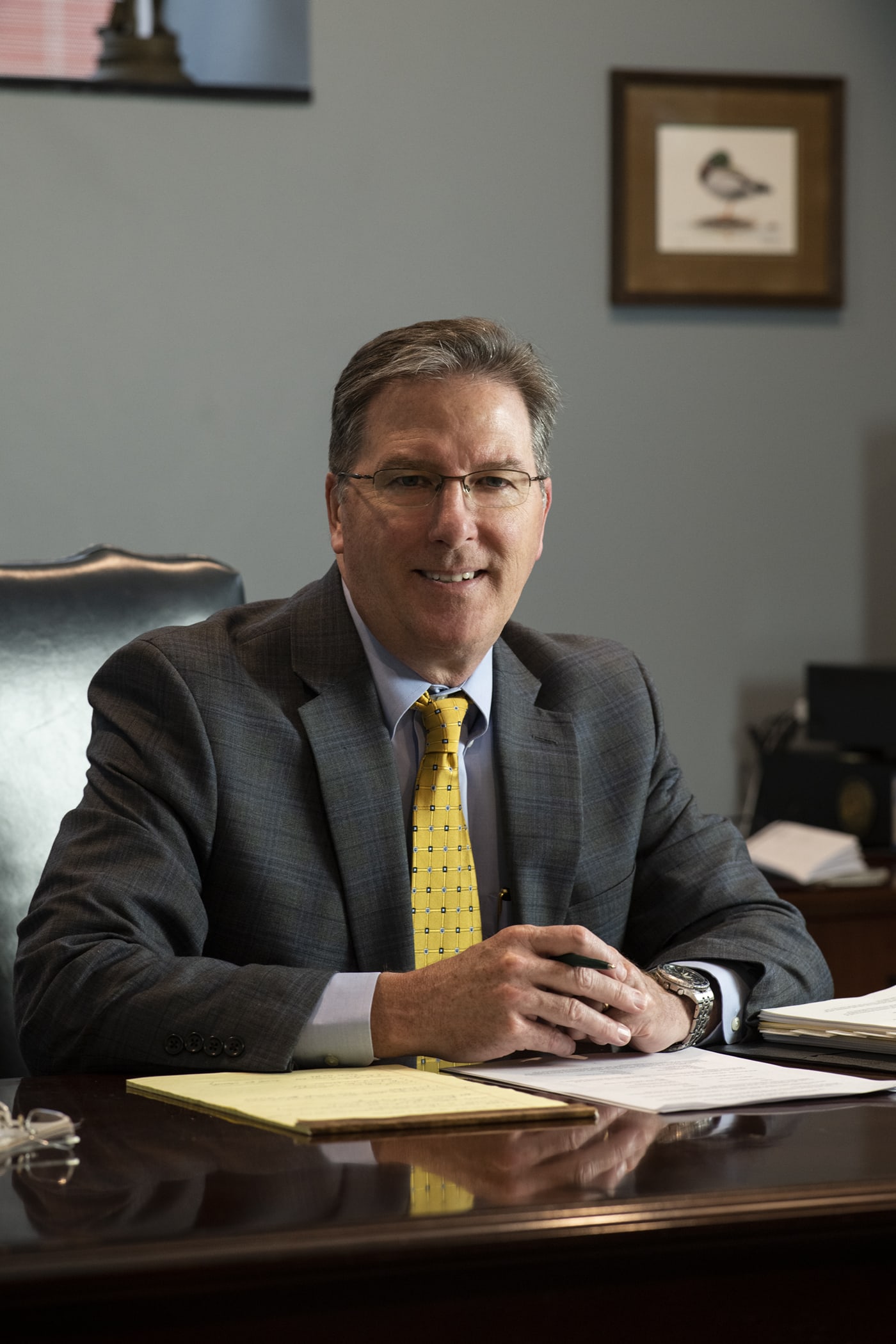 Mark R. Gray
Mark was born and raised in Ankeny and has practiced here since 1989. He practices primarily in Estate Planning (wills, power of attorney, living wills, trusts), Probate (decedent's Estates), Trust Administration, Real Estate (residential and development), and Corporate Law (small business representation, including corporations and limited liability companies).
BIOGRAPHY
Mark is active in the Probate Section of the Iowa State Bar Association, and speaks regularly on the subjects of estate planning and probate. Mark has successfully planned for medium to very large estates, resolved complicated and potentially expensive family disputes and tax issues, and protected families and small businesses from various legal problems. He graduated from Northeast Missouri State University (now know as Truman Univerisity) in 1983, and from The John Marshall Law School in 1986.
Awards and Recognitions
Selected for inclusion in Chambers USA: America's Leading Lawyers for Business, 2011-2013 Editions as a Leading Individual Lawyer in Real Estate.
AV rated by Martindale-Hubbell. (2012-2019)
Selected for inclusion in the Best Lawyers in America as a top-ranked attorney in Real Estate Law (2016-2019).
Selected for Super Lawyers top rated estate planning & probate attorney (2016-2019).
Work Experience
Founding Member, Gray Hodges & Associates (formerly, Gray Thompson & Associates), 2016
Co-Chair: Whitfield & Eddy, P.L.C., Estates, Wills & Trusts Practice Group, 2014-2015
Chair: Whitfield & Eddy P.L.C., Estates, Wills Trusts Practice Group, 2002-2013
Whitfield & Eddy, P.L.C., Professional Recruitment Committee, 2008-2014
Member, Whitfield & Eddy, P.L.C., 2001-2015
Ankeny City Council Member, 1998-2001
Solo Practitioner, Mark R. Gray, Esq., 1993-2001
Partner, Maggert & Gray, 1989-1993
Practiced law in Chicago area, Illinois, 1986-1989
Professional Activities and Affiliations
Charter Member, Iowa Academy of Trust and Estate Counsel
Des Moines Estate Planners
American Bar Association
Iowa State Bar Association

Section Member: General Practice; Probate, Trust & Estate Law; Real Estate & Title Law
Section Council Member, Probate, Trust & Estate Planning Law, 2014 - present
Section Council Member, General Practice, 1993 - 1999
Section Chair, General Practice, 1996-1997
Section Editor, General Practice Newsletter, 1990-2004

Polk County Bar Association
Civic & Volunteer Activities
Ankeny City Council (1998 - 2001)
Ankeny Economic Development Corporation, 2008 - present
Ankeny Chamber of Commerce (Public Affairs Committee, 2005 - present)
Holy Trinity Lutheran Church (Human Resources Committee, 2010 - 2012)
Metro Waste Authority (Board of Directors, 1998 - 2001)
Select Publications and Presentations
Iowa State Bar Association:

"Fiduciary Ethics: Representing Fiduciaries of Estates and Trust," 2018
"Dealing with uncooperative Fiduciaries," 2016
"Nuts and Bolts of Revocable Trusts," 2014
"Planning with Prenuptial Agreements," 2008
"Ethics," 2006
"Probate," 2006
Solo and Small Firm Conference Presentations:

"Bringing It Home - Fee Agreements and Collections", 2014
"How To Bill" and "Probate Law", 2010
"Estate Planning with Blended Families and Prenuptial Agreements," 2009
"Revocable Trust: Spousal Share and Homestead," 2006

Bridge the Gap Conference Presentations

"Estate Planning Primer," 2009
"Will Preparation," 2007

Iowa Association for Justice:

"Basic Skills Course for Newly Admitted Attorneys," 2010, 2014
"Iowa Probate," 2012-2013
"Probate: Nuts & Bolts," 2011

Des Moines Estate Planners:

"Portability and Other New Developments in Estate Planning," 2015
"Non-Spouse Rollovers," 2007
"Revocable Trust: Spousal Share and Homestead," 2006

National Business Institute:

"Maintaining an Ethical Balance in Probate Practice," 2010-2013
"Determining if Spouse's Elective Share is a Reasonable Option," 2010-2013
"Uncovering the Laws of Intestacy and How They May Apply," 2010-2013
"Litigating the Case in Probate Court," 2013
"Putting the Case to Rest: Closing the Estate," 2013
"Estate Planning Basics," 2006, 2009
"Ethical Issues in Estate Planning," 2007
"The Probate Process from Start to Finish in Iowa," 2002-2004, 2006
"How to Draft Effective Wills and Trusts for Your Clients in Iowa," 2005
"Iowa Probate: Beyond the Basics," 2004
"Advanced Estate Planning Techniques in Iowa," 2004

Creighton Law Review: "Minumizing Professional Risk in the Representation of Estates and Trust." Vol 50, Issue 4.
AGC of Iowa:

"Business Succession Planning," 2013.

Ankeny Public Library Adult Education:

"Estate Planning Concepts," 2015

Cross Wealth Management, Estate Planning Seminar, 2014
University of Iowa College of Law:

"Practical Strategies for avoiding Ethical Grievances and Legal Malpractice Claims When Serving as Attorney For a Fiduciary," 2011

Des Moines Area Community College (DMACC)

"Death Tax Is Far From Dead," 2010

Mid-Iowa Estate and Financial Planners:

"Revocable Trust: Spousal Share and Homestead," 2007